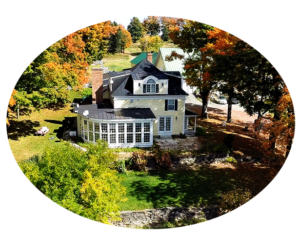 The Runaway Manor is a 50 acre estate located in Vermont's unique Northeast Kingdom.
Situated at the end of a driveway lined with hundred year old maples, the three story house overlooks nearby Lake Parker. Decorated in a Victorian style, the restored farmhouse is luxurious as well as comfortable. The property has a bit of everything Vermont is known for, including maple trees, open meadows, and endless rolling hills. It is the perfect setting for privacy, relaxation, and romance. You can hike or snowshoe up to the log cabin at the top of the hill, stroll around the property and explore the gardens, barn, and pool, or just relax in the house while enjoying our southern hospitality. Whatever your choice, you can be sure that the atmosphere and surroundings at
Runaway Manor
will soothe your spirit and pamper your soul.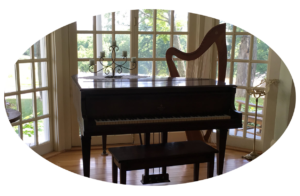 From the moment you arrive you will be taken aback from the views in all directions.
Without a house in sight, Runaway Manor could not be more peaceful. You will be amazed that such tranquility still exists.
Experience relaxation and romance during your getaway.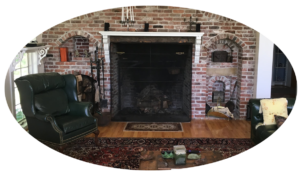 At Runaway Manor, breakfast is not only the most important meal of the day, but also the most relaxing.
Imagine waking from a great night's sleep to the smell of home-made muffins baking and fresh brewed coffee. Saunter down in your pajamas and get a steaming mug to take back up to your room. At your leisure, you can make your way back down to savor a continental breakfast feast prepared freshly just for you. Enjoy a variety of freshly baked muffins, local yogurt with home-made granola, fresh fruit, and home-made New York style bagels offered with a plethora of different spreads. Served in the sunny confines of our spacious dining room overlooking the lovely flower gardens and pool, this is guaranteed to be a morning you will not forget. On cooler days, view the misty pasture as you linger over that second cup of coffee while relaxing in front of the fire.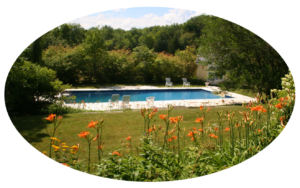 Amenities
60 Foot in Ground Pool
Marble Terrace
Two Luxurious Sitting Rooms with Fireplaces
Mature Maple Grove
50 Peaceful Acres
Privacy Galore
Breathtaking Views
Hiking, Biking & Picnics on Site
Equestrian Barn
Well Appointed Rooms with Private Baths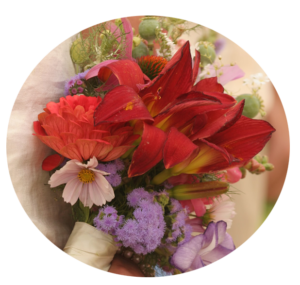 The Runaway Manor is available for Private Functions, Weddings, Reunions, Showers, etc. Nothing could be more romantic than pledging your love to each other with friends and family gathered around you in the pristine Northeast Kingdom of Vermont, complete with rolling hills, maple groves, and open meadows. With our 50 acres of fabulous property, beautiful bridal suite and desire to please, we are a perfect choice for a beautiful outdoor wedding. We are more than happy to help you custom design a wedding that will fit your needs and budget.